Once again it's been a while since I checked in with a review, so here goes nothing. We were attending a football game in Auburn so we planned an extra 7 mile trip south to try some pizza at DiCarlo's in Virden for our pre-game meal. I have had friends from Macoupin county pressing me to try this pizza for quite a while, so this past Friday was the day.
Where they're located:
330 N. Springfield St (IL Rte 4)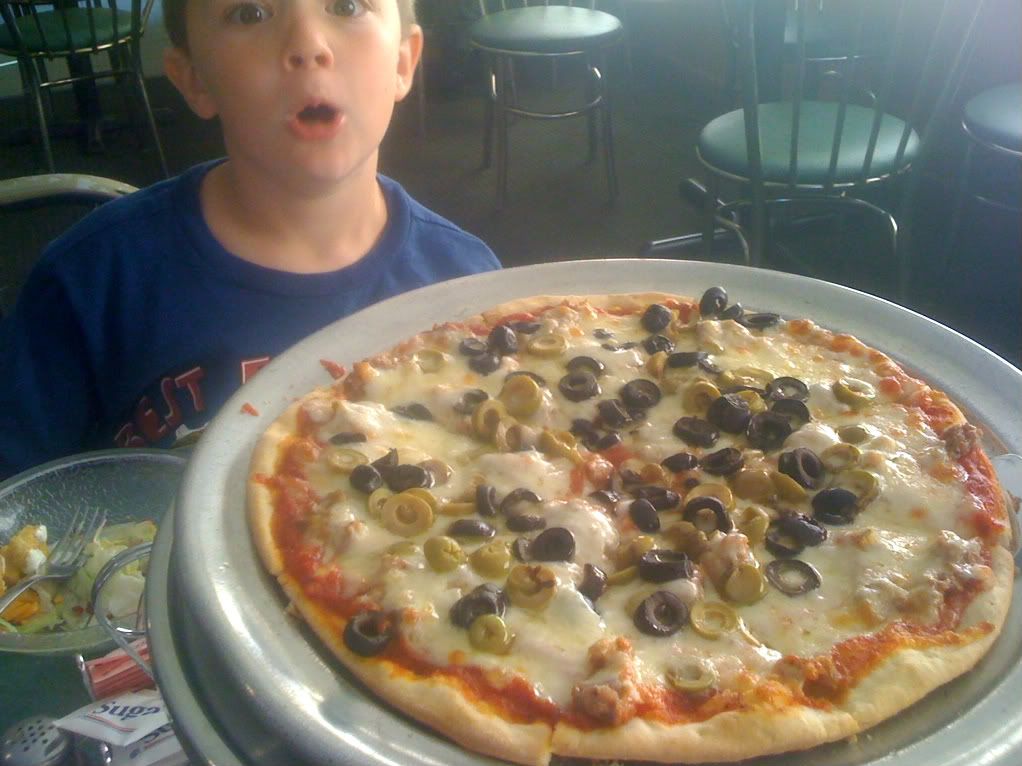 Virden, IL
Call 'Em:
(217) 965-5323
The Pizza:
Sausage, garlic, black & green olives
The Crust:
Thin
The Dish:
This is a true "Mom & Pop" restaurant ran by founders Sal & Vita DiCarlo. Located in tiny Virden Illinois which sits about 20 miles south of Springfield, DiCarlo's is a small restaurant that sits on the main drag just north of the center of town. The atmosphere is friendly and family oriented with a small salad bar and about 15-20 tables. It's a seat yourself joint with daily specials and they only take cash. Leave your checks and plastic at home.
How'd it eat:
There was a short wait for the hot gooey pizza. As a matter of fact the pizza came before my trusty assistant's meatball sandwich. He was enjoying cold milk and I had a Busch draft in a cold mug. The pie was topped copiously with cheese and the olives (not enough around the edges though), but would have like a little more sausage than what I got. The meat was scarce compared to the olives. They nailed the fresh garlic though... I think it goes so well with the olives. The cheese was all mozzarella and there was just enough where the other flavors weren't drowned in it's creamy goodness.
The sauce and the crust are what make DiCarlo's an outstanding pie. Firstly and most importantly, DiCarlo's does not skimp on the sauce. You won't have request extra sauce here. It has a thicker than usual texture with just a hint of sweetness and basil.
The crust is not super thin but it is still crispy and holds the toppings well without being flimsey or soggy. There is a slight buttery flavor to the crust that really works with DiCarlo's tasty sauce.
All of the elements of an excellent pizza are there so you're going to enjoy a top shelf pie no matter which toppings you like. DiCarlo's is well worth the 20 minute drive from Springfield if you're in the mood for some tasty pizza!
SPP Rating 8.5